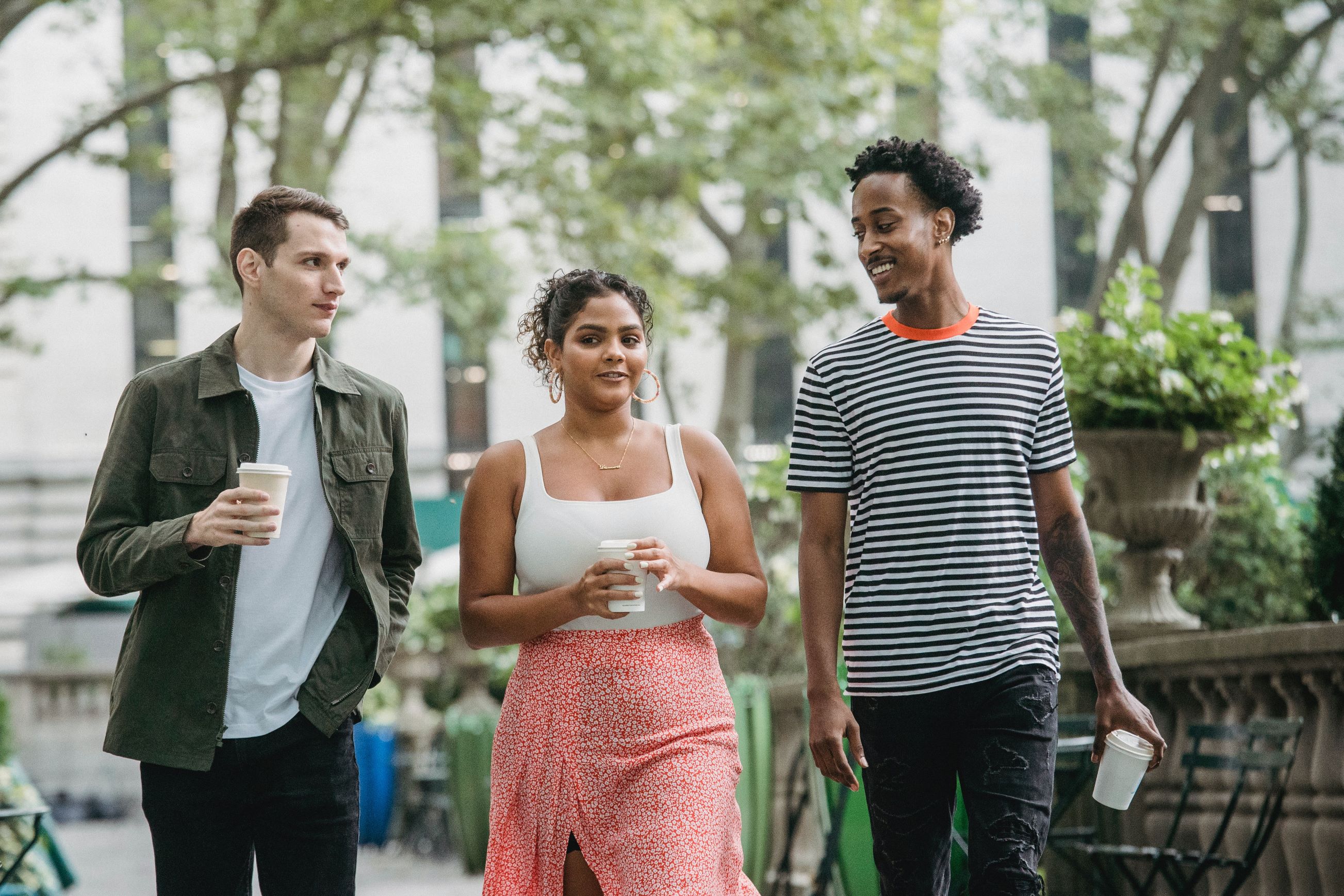 ​
Not everyone feels comfortable networking. And this is understandable - not everyone is extroverted or thrives on social interaction. Certainly, if you're attending something unfamiliar to you, you should never expect to go in feeling extremely confident!
The key to great networking is not to force it. The more you put yourself out there and the more you engage with the things you're interested in, the more likely you are to build authentic relationships. A transactional interaction can leave a bad taste in someone's mouth, and you won't want that following you around your career!
​
Getting Started
​
Just say yes and get away from your desk
Sometimes networking is as simple as a coffee. The more you build it up in your head, the more of a mountain it becomes.
"One of the best ways to meet someone in my opinion is on a walk – as simple as it sounds, it's a great icebreaker. When you're meeting someone in your network, having a conversation over dinner can add a layer of pressure. Heading to the local coffee shop between both of you and walking with them will put you more at ease. Make it easier for both of you!"
– Bobbie Turner, Managing Consultant, Marketing & Communications division, Handle Recruitment
Subscribe to platforms that promote formal events for your industry
There are tons of educational platforms that promote formal industry events - where people gather to discuss ideas and provide inspiration. If you haven't already signed up to any - message your colleagues and ask if they know of any that are applicable to your industry. There are apps such as Meetup, Shapr, and Bumble Bizz – where you can find new connections and events in your area.
Try to meet one of your LinkedIn connections
This is about meeting people in your network without trying to sell them something. Search your network and see who's local to you - if they've produced great campaign recently, message them and ask them about it - not just what the results were, but what their inspiration was. How they did it. Flattery can go a long way if it's authentic. Ask them if there are any events worth checking out - then if they tell you, say you'll see them there![RT1]
Contact a friend in a different industry and go with them somewhere
Feel like you're already going to a lot of the events for your industry? Try something new! For example, if you work in marketing at a music company - find a friend that works in film, or TV, and go with them to an event of their choice. It's important to expand your horizons in terms of the people you meet - or you may find you're seeing the same 20 faces everywhere you go!
​
Getting organised
​
Although you want to keep your conversations as organic as possible, there's no harm in doing some light research before you meet up with someone – if you see them sharing articles on a specific topic that interests you, find out more about it – do some digging then you know you can have a fluid conversation over shared interests.
Do you have the 'perfect' introduction?
Introducing yourself to someone you don't know doesn't have to be awkward. Instead of focusing on your own monologue, keep your intro brief and ask a question as quickly as possible. Something as simple as "Have you heard any of the speakers before?" or, "This is a great venue, have you been here before?" can seamlessly kick-start a positive conversation.
​
When you are in the room
​
Avoid 'transactional interactions'
A lot of people network by finding who they deem as the most important in the room and ignoring everyone else there. They may not truly engage with that person on any real level, but by treating it almost as a sales pitch. Avoid this at all costs - you never know who you will meet where you go, and you never want to leave a bad impression for the sake of trying to gain something.
​
The day after
​
Always follow up after you network.
Business cards can create more degrees of separation than you need. If you meet someone at an event, or out and about, the easiest way to maintain that contact is to connect with them on LinkedIn. Do this and send them a message following up, especially if you already have them as a connection. Try and get another date in the diary for coffee.
​
And if you are looking for a new role or struggling to hire great talent we'd love to meet IRL!
​