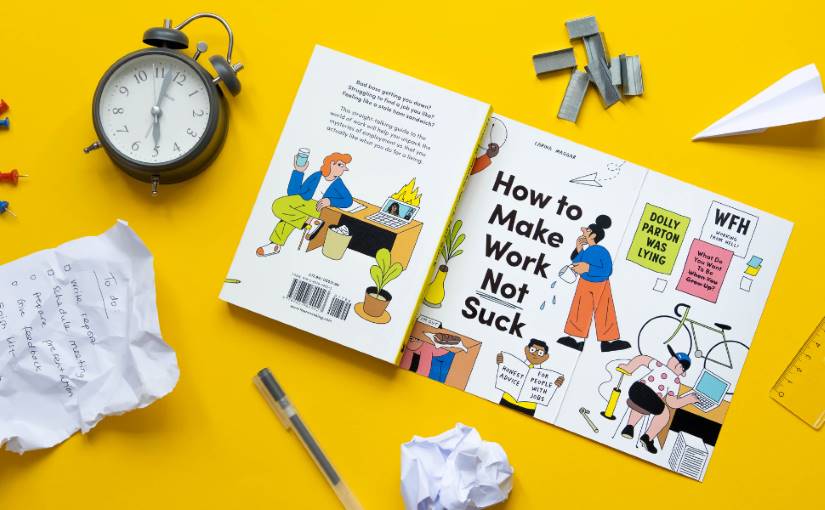 To celebrate Season two of the People Experience podcast we've got five copies of Carina Maggar's book to give away!
In this straight-talking guide to the real world of work, discover genuinely useful advice that will help you find the confidence to go for that promotion, quit your job, break into that industry, nail that pitch or climb over a creative brick wall. With 120 irreverent, unusual but always useful insights, this book will help you reach your career goals.
To enter this prize draw all you have to do is answer our LinkedIn poll before 10:00 27/04/2023.​
​THIS PRIZE DRAW IS NOW CLOSED
The winners will be announced shortly
------------
Free Prize Draw Terms and Conditions – 'How to Make Work Not Suck' book giveaway
1. By entering the prize draw you are agreeing to these prize draw terms and conditions.
2. The prize draw is being run by Handle Recruitment Limited (Registration number 01419017) with registered address at 164-182 Oxford Street, London, United Kingdom, W1D 1NN
Eligibility to enter
3. The prize draw is open to entrants over 18 years of age and be able to provide a UK postal address for delivery.
4. In entering the prize draw, you confirm that you are eligible to enter and eligible to claim any prize you may win.
5. A maximum of one entry per individual is permitted.
6. The prize draw is free to enter.
How to enter
7. The prize draw will be promoted on the Handle Recruitment social media channels and website up to Midday on the 26th April 2023. Entries after that time and date will not be included in the draw.
8. To enter the prize draw simply submit an answer to our 'Win a copy of How to Make Work Not Suck' LinkedIn poll on linkedin.com/company/handle-recruitment.
9. Handle Recruitment will not accept responsibility if contact details provided are incomplete or inaccurate.
The prize
10. The prize will be one printed copy of Carina Maggar's book, 'How to Make Work Not Suck'.
11. Handle Recruitment's use of particular brands as prizes does not imply any affiliation with or endorsement of such brands.
12. The winner will be drawn at random.
13. The prize is non-exchangeable, non-transferable and no cash alternatives will be offered.
14. We reserve the right to substitute prizes with another prize of any value, as Handle deems fit, if circumstances beyond our control make it necessary to do so.
15. The decision of Handle Recruitment regarding any aspect of the prize draw is final and binding and no correspondence will be entered into about it.
Winner announcement
16. The winners will be notified after 27th April 2023 by LinkedIn InMail.
17. Handle Recruitment will attempt to contact the winner up to two times.
18. If the winner does not respond to the LinkedIn inMail notifying them of their win within 48 hours of the second message, they will lose their right to the prize, and Handle Recruitment reserves the right to choose and notify a new winner.
Receipt of the prize
19. The prize will be sent by post to a UK address.
Data protection and publicity
20. You consent to any personal information you provide in entering the prize draw being used by Handle Recruitment for the purposes of administering the prize draw, and for those purposes as defined within our privacy notice.
21. All entrants may apply for details of the winners by contacting us at info@handle.co.uk
22. The winners agree to the release of their first name to any other prize draw participants if requested via Handle Recruitment.
23. An announcement of the winners first name will be made via handle.co.uk.
24. All personal information shall be used in accordance with Handle Recruitment's Privacy Notice.
Limitation of Liability
25. Handle Recruitment does not accept any liability for any damage, loss, injury or disappointment suffered by any entrants as a result of either participating in the prize draw or being selected for a prize, save that Handle Recruitment does not exclude its liability for death or personal injury as a result of its own negligence.
26. Handle Recruitment does not provide any form of practical or technical support for this prize. On receipt, all responsibilities are that of the prize winner.
General
27. Handle Recruitment reserves the right to cancel the prize draw or amend these terms and conditions at any time, without prior notice.
28. The prize draw and these terms and conditions will be governed by English law and any disputes will be subject to the exclusive jurisdiction of the courts of England and Wales.