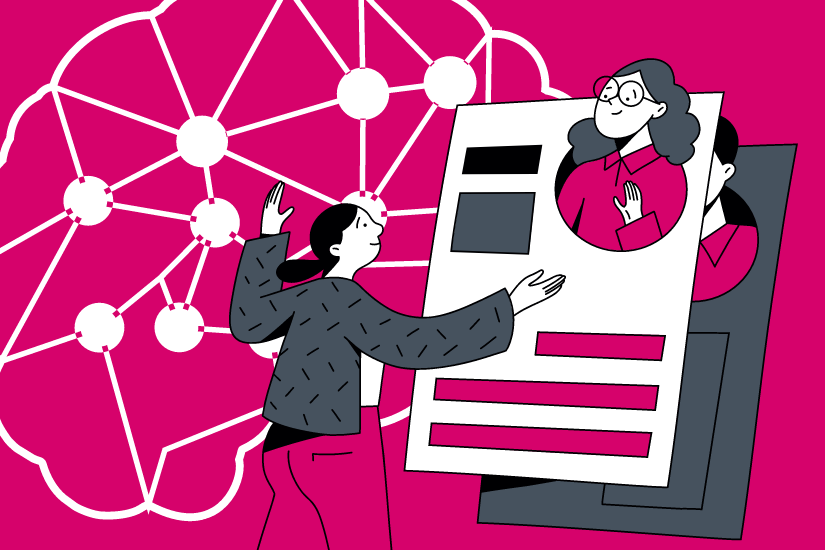 ​
Lots of talent teams now use AI to automate time-consuming tasks… and they're not the only ones!
It's no secret that a well-written CV plays an important role in getting the job of your dreams. But what if you could outsource that work to someone, or something, that does it much quicker?
Increasingly, jobseekers are using generative AI technology (ChatGPT etc.) to write CVs - and it's working. Recent research from MIT Sloan showed that jobseekers with AI-assisted resumes are 8% more likely to be hired, and earn 8.4% higher wages.
We recently polled our People Experience community, and found that just 32% were confident they could recognise an AI-created CV. So what can talent teams do to change this dynamic?
AI technologies have moved at a rapid pace, and teething zones are a natural consequence. Yes, you can get familiarized with the telltale signs of an AI-driven CV, and yes, there are technologies that can help you do this, but that's just a short-term response. The real question is, what does this phenomenon really tell us about the ways we hire?
Now is the time to double down on your processes, and ensure that at each stage you are assessing candidates thoroughly, and without bias. The question of whether or not a person used AI in their CV becomes less and less important the more confident you are in the stages after. It's always been possible to lie on a CV, or get someone else to write it altogether - ChatGPT only automates a pre-existing issue. And realistically, if a piece of paper is that instrumental in deciding who joins your company, it has too much power.
Want more of the latest community-driven content?
SIGN UP: The People Experience Newsletter
​
---
​
About Handle Recruitment
Finding a new permanent or temporary opportunity at a great brand should be enjoyable & working with great people non-negotiable. We believe that everyone should be able to fulfil their potential and we have been helping great brands improve their talent processes and attract exceptional people since 1978.
We provide leading entertainment companies, social networks, global media brands, sports bodies, retailers, and tech platforms with talent solutions that make a difference. Our consultants focus on a unique specialism, from Finance, to Sales, Marketing, HR, Legal, Office Support, and Tech but are tied together by the industries we support.
​