​After our 50th edition of the People Experience newsletter, we were reflecting back on the highly unprecedented changes the landscape of work has seen over the past few years – it struck me that one particular challenge has remained consistently at the centre of the workplace discussion, hybrid working!
So many diverse opinions, no perfect solutions, the hybrid conundrum feels relentlessly debated and never solved.
What is clear is that People & Culture leaders have borne the brunt of managing these challenges - balancing what is right for the individual, the team, and your organisation. With such a huge conundrum to solve, no wonder so many P&C professionals are keen to hear what their network are doing.
It's been a long few years…
I revisited a guide my team created in May 2021 titled 'what happens next, is hybrid working the long-term solution?'.
My intro began "Back in early 2020 you may have thought you had the perfect solution but a year of enforced remote working has provided a lot of time for reflection." Ominously followed up with the statement "Think ahead to 2022 and the decisions you make now could transform what your organisation looks like - both positive and negative!".
Fast forward to today and it feels as relevant now as it did then. Press coverage is still divided, 'Hybrid working: Tech companies demanding end to remote work' and 'Ignore The Siren Song For Ending Remote And Hybrid Work', and any announcement by a well-known brand is scrutinised publicly. With P&C again typically front and centre!
With some organisations firmly decided on a clear long-term strategy and pushing forward with that (with varying results) – and some still considering options with a 'loose' hybrid model, no wonder we're still constantly asked 'what is everyone else doing?'
So, what is everyone else doing?
To try to answer the constant hybrid question, earlier this year we created a quarterly update to track the working patterns of 100 great brands, all with a London presence within our Handle client base.
Below is our data from June 2023 - we'll be continuing to track this and sharing the new research at the start of September.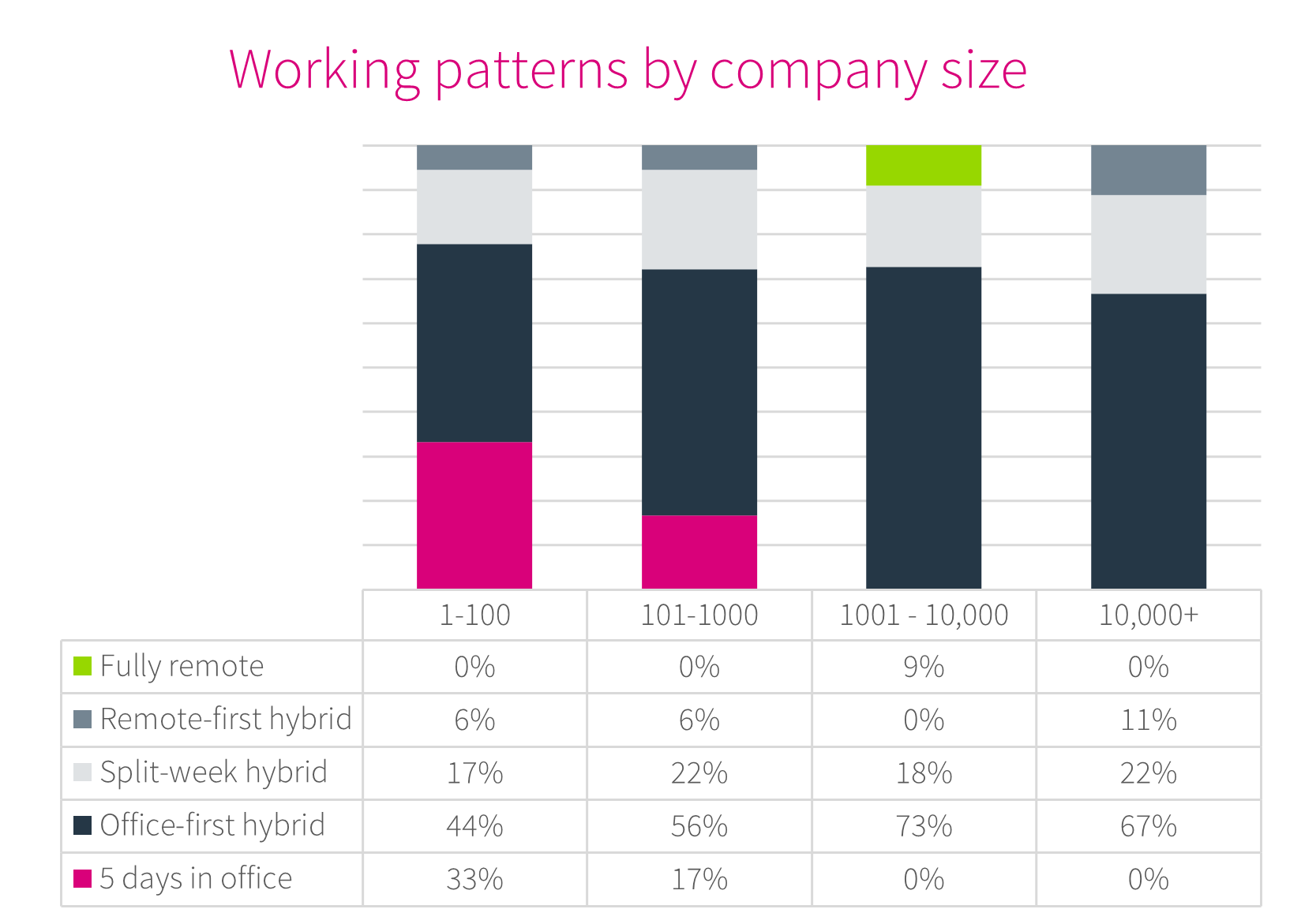 Whilst we cannot provide an equation for the perfect working pattern solution, we are committed to sharing data and insights to inform your strategic direction as much as we can! You may hear from me and the team in the near future on our insights gathering mission 😊
---
​
This post was included in the 51st edition of the People Experience Newsletter. To receive our fortnightly newsletter just share your email address here.
​