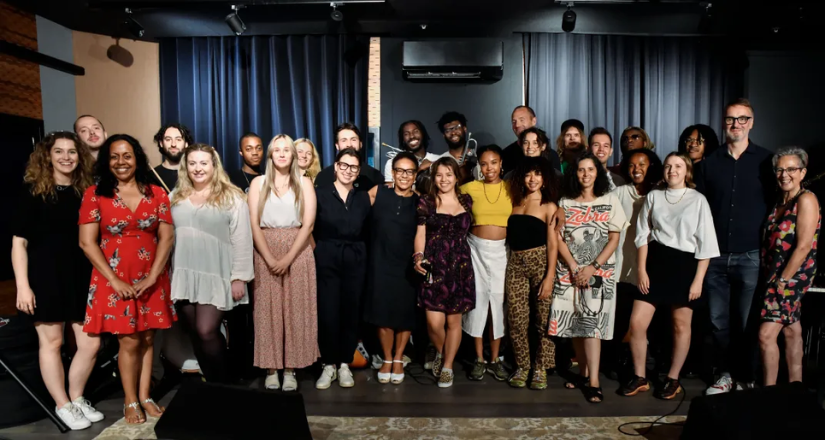 Image Source: Tomorrow's Warriors website
Tomorrow's Warriors have partnered with Decca (Universal Music) to deliver a new career mentoring scheme to 15 emerging Warrior musicians.
The year-long programme will deliver vital one-to-one mentoring support to its 18-25 year old musicians from diverse backgrounds, as part of its Emerging Artist Programme.
Each Warrior musician is paired with a Decca member of staff across a variety of departments, such as A&R, Marketing, Commercial & Streaming, Catalogue/Product Management, Press & Promotions and Digital.
The 15 artists receiving mentoring include Akin Soul, Allexa Nava, Anoushka Nanguay, Cara Crosby-Irons, Cassius Cobbson, Francisco Garcia de Paredes, Grifton Forbes-Amos, Harry Ling, Joseph Oti, Kianja Harvey-Elliott, Luke Bacchus, Maddy Coombs, Menelik Claffey, Nadav Schneerson and Sultan Stevenson.
Janine Irons OBE, CEO, Tomorrow's Warriors said "We are very pleased to continue our exciting partnership with Decca, now in its second year. Decca is one of the most important jazz labels in the world and we are pleased to collaborate with them once again to offer industry-leading mentoring to our Warrior musicians and add significant value to our Emerging Artist Programme. Tomorrow's Warriors supports the grassroots talent pipeline into the music industry, and Ezra Collective's epic Mercury Prize win is a testament to this. So it's wonderful to connect our young artists to the expertise in Decca's staff team and enrich their journey as professional musicians."
Tom Lewis, Co-President, Decca Records said "We are delighted to renew this fantastic partnership with Tomorrow's Warriors. Janine, Gary and the team are an inspiration to work with. Their understanding of the power of music in education and community; their ability to recognise, patiently nurture and encourage talent at the earliest possible opportunity; and their proven ability to change the lives and horizons of the musicians with whom they have worked – and all with kindness at the very heart of what they do. We have learnt so much from this scheme. It really is a reciprocal relationship, and we can't wait to get going again."
Tomorrow's Warriors is a pioneering talent development agency, creative producer, learning and training provider, charity and consultancy specialising in jazz.
Since 1991, the organisation has reached over 10,000 young people through its talent development programmes, providing each musician with between 1,000-5,000 hours of free jazz training and development. They've provided a crucial development platform for many notable artists including this year's Mercury Prize winners Ezra Collective.
As well as providing mentoring, the Tomorrow's Warriors Emerging Artist Programme delivers performance opportunities, training, traineeships, talks, masterclasses, and bursaries to support artists into professional careers.
​
---
​
About Handle Recruitment
Finding a new permanent or temporary opportunity at a great brand should be enjoyable & working with great people non-negotiable. We believe that everyone should be able to fulfil their potential and we have been helping great brands improve their talent processes and attract exceptional people since 1978.
We provide leading entertainment companies, social networks, global media brands, sports bodies, retailers, and tech platforms with talent solutions that make a difference. Our consultants focus on a unique specialism, fromFinance, toSales,Marketing,HR,Legal, andOffice Supportbut are tied together by the industries we support.